Donors, EBMS Volunteers Fill Backpacks with Supplies for Schoolkids
August 16th, 2019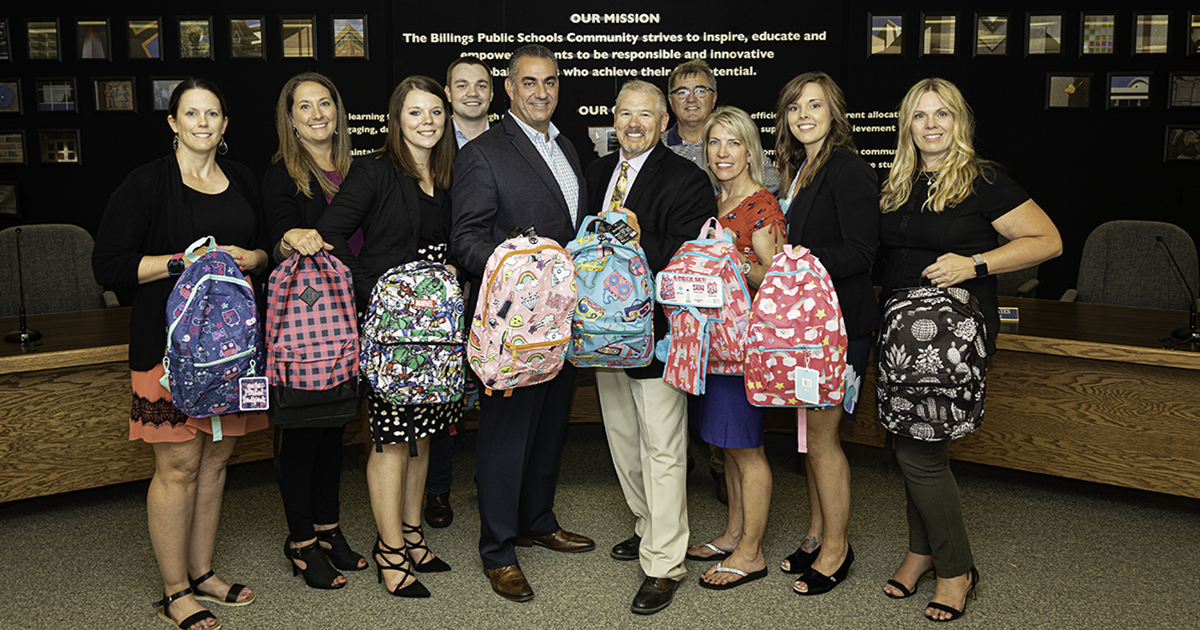 Thanks to the generosity of donors and EBMS volunteers, hundreds of students will receive new backpacks filled with school supplies to give them an educational boost as they start their 2019 school year.
EBMS, LLC., is a third-party administrator for self-funded benefit plans based in Billings, Mont. EBMS works with approximately 65 school districts across the country providing medical care to 42,374 school district employees and their families.
CEO James Vertino said he and the EBMS team were "excited to kick off this endeavor this summer and thrilled to be able to donate supply-filled backpacks along with boxes of classroom supplies for teachers in our Billings community."
"In EBMS' daily operations, we are already committed to providing numerous services to many school districts in the state and nationwide," Vertino said. "EBMS' Backpack Drive is a small way to lend a special hand for those who really need it at this critical time of year – kids!"
School supplies were collected at the EBMS corporate office in West Billings and the downtown office of Kinetic Marketing & Creative. EBMS partners with Kinetic for its national marketing and communication efforts. Entre Technology Services of Billings and Healthx of Indianapolis are vendors of EBMS and also participated in the initiative.
A group of EBMS employees called "The Backpack Leaders" volunteered their time to coordinate teams in their departments to gather supplies to fill backpacks or raise funds through donations.
The group put up posters and met weekly to check progress and brainstorm ideas on how to stimulate even more donations. Weekly updates were sent throughout the company to keep motivation high during the six-week campaign.
Team members included Chris Haugan, Brenna Yarina, Roxann Heinz, Bobbie Blodgett, Ashley Porter, Miranda Jellison, Melissa Lyon, Linda Miller, Kristie Schuck, Mykale Braun and Tiva Absher.  Laurie Vertino and JD Pryor also contributed their time and efforts.
Using internal communications and social media, organizers put out the call for donations, and the response was amazing: the EBMS team collected 426 bags.
Billings Public Schools received 226 backpacks plus extra classroom supplies (wipes, tissues, etc.). The backpacks and supplies were delivered to Superintendent Greg Upham for distribution. SD2 employees serve over 16,000 students in 22 elementary schools, six middle schools, three high schools and its Career Center.
Montana districts represented by the Joint Powers Trust received 200 backpacks. JPT is a group health benefit trust, founded in 1988 by counties in Montana that sought stability for health benefit coverage for public service employees and their dependents. Today, the JPT provides benefit offerings to more than 8,500 members throughout Montana and Wyoming.
"Growing up the youngest of eight kids, the start of the school year was always an exciting and chaotic time in the Vertino household," he said. "I watched my mother organize and shop every year and my own wife with our two boys as well. I know firsthand that preparing to send a child to school is both costly, time-consuming and a bit nerve-wracking."
Vertino led backpack drives at companies where he worked before joining EBMS. He said the annual events "made me extremely proud of my business, my coworkers and vendors, and is something I truly enjoy participating in every year."
"The EBMS team and I are extremely honored to be able to support our Billings Public Schools in any way and look forward to this growing partnership for many years to come," he said.